want to share your story, your research? well, we want to hear all about it!
WHO: 

Hosts Laura Lee & Paul Robear 
WHAT: Interviews with a LIVE audience, Webcast on Zoom
WHEN: Sundays from Noon-2PM Eastern
WHERE: On the screens of our world-wide community
WHY: To "move the dial with dialogue," as we like to say!
---
Our Mission is to join hands and hearts to explore those big, eternal questions: who are we, where did we come from, and where are we going? How do we make sense of our world, and our place in it? Our goal through conversation with the leading edge is to expand our worldview, and look into the inner workings of Nature, our Universe, ourselves, our long history of art, innovation, cultures and shifting paradigms. This is a quest shared by us all: to shape our own worldview, and help usher in a new story, and to right our collective path.  
Our Guests offer their unique piece of the Grand Puzzle of Life, from the personal quest that jumpstarted them on their life's path, to their research and observations. We cover a wide range of disciplines, from the arts and sciences, the micro and the macrocosm, and everything in-between. It's a big universe out there, so we go exploring!
Our World-Wide Community always has insightful comments and questions to pose in the second hour. Here's where the "aha moments" await! Zoom allows us to extend our live reach, and our weekly and monthly newsletter is emailed to over 5,000 members of our vibrant, growing international community — the majority in the US and Canada, also Europe, Australia, New Zealand, Egypt, Turkey, Singapore, South America and more. While several academics attend, and speak, at our Sundays, our talks are for a general audience, for educational, non-commercial purposes. And, for the joy of engaging in scintillating conversation with fascinating people, as we 'move the dial with dialogue'.
Your Hosts Laura Lee & Paul Robear, husband-wife team, come with a media background, so you are in good hands! Laura hosted a popular nationally-syndicated radio talk show, interviewing over 3,000 guests, while Paul produced leading-edge books and videos. ee, Paul developed a media company,  Seven Directions Media Inc., which included a publishing company that sold over a hundred-thousand books, videos, and audio books and a D2C mail-order bookstore with international distribution.
Now as Directors of the Cuyamungue Institute (CI)
, Paul and Laura say: "We recognize that to thrive as an educational 501-c-3 non-profit research organization, is to keep growing and broaden the scope of our work. We look at our research into ancient indigenous art worldwide, research begun by CI's founder, anthropologist
 Dr. Felicitas D Goodman in 1978, in the larger context. We are thankful for the many conversations with our guests, researchers in
brain-mind science, archaeology, archaeoastronomy, eco-spirituality, ecology, philosophy, psychology, psychoacoustics, ethnomusicology, mythology, shamanism, ritual, the heroes journey, the roots of theatre, deep history, art history — and much much more, who help us do just that."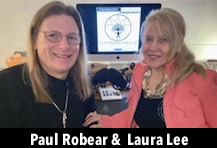 100+ C4E INTERVIEWS ON YOUTUBE! Check out recent guests from our Zooms with the link below 
100+ INTERVIEWS NOW PODCAST! Check out these audio-only interviews,  timeless topics from our nationally syndicated radio show archives. 
UPCOMING GUESTS posted below!
---
Register in Advance with the link above to our free, open to all Interviews on Zoom with a live audience. You'll receive a confirmation email with the links.  You'll also be added to our Sunday mailing list with notice of upcoming guests and topics. Unsubscribe at any time.
C4E Interviews:  Noon-2pm Eastern LIVE EVERY SUNDAY

---
 WHAT OUR GUESTS SAY ABOUT C4E:
From our Anthropology Advisor:

I'm delighted with the many insights I've both learned, and shared, over this past year in Cuyamungue Institute's weekly Zoom sessions. I have given several lectures for Laura and Paul's Sunday Conversation4Exploration Series, which is attracting other academics from a variety of fields, in addition to an enthusiastic lay audience. Laura and Paul are diligently and brilliantly expanding the conversation to integrate a wide range of disciplines and find common ground with fresh insight on those fundamental quests of understanding that engage us all.
Christine S. VanPool, Ph.D.  
Associate Professor of Anthropology, University of Missouri 
From our Astronomy and Archeoastronomy Advisor:
Laura & Paul are masters at guiding their Sunday discussions which, for a growing audience, including myself, has become can't-miss Zoomtime. I have given several talks, and I have a long list of colleagues in the fields of archaeo-astronomy, rock art research, the leading edge of cosmology and more to introduce to their work to. They are an articulate, insightful and compelling spokescouple for the Cuyamungue Institute, a dynamo team taking the work of the anthropologist Dr. Goodman to new heights. This work truly is just amazing and my time at the Cuyamungue Institute has been highly rewarding on many levels.
Tony Hull Adjunct Professor of Astrophysics, University of New Mexico
From our Religion Advisor:
The Cuyamungue Institute's Sunday morning series of talks and discussion, Conversation4Exploration, has become a regular feature of my week. The topics are always interesting because they invariably bear on matters of importance in the broad panorama of consciousness. I have given several talks, enjoyed all the talks, and I look forward to this wealth of knowledge every week, and to the lively discussions that always follow.
Fredrick Smith Professor Emeritus of Sanskrit & Classical Indian Religions University of Iowa
From our Arts and Exhibition Advisor:      
As the founder of a cause-oriented fine-arts photography agency, I am well versed in how to tell stories for our time through images. I help my roster of photographers package their art into coffee table books and museum exhibits all over the globe. I know what makes a compelling and evocative story, the ones that museum curators need to sell tickets and to sell books, or rivets audiences in any medium. Where art meets science, where long-lost secrets are dusted off to come alive again, in an interactive, discussion forum, is gold. Laura and Paul offer all that, and they sell it well!      I spent a week with them at the Cuyamungue Institute, where I had one of the most profound experiences of my life with work. I cheered them on as they helped a modern artist accurately bring their Institute's work to the stage of an exhibition and choreographed performance piece, to stunning results. Theirs is a deserving forum, one with legs, and they are the couple to take it the distance.
Barbara Cox, Founder Photokunst Fine Arts Photography Agency www.photokunst.com
From My Radio Career Mentor:
As a Talk Radio Program Director always on the look-out for new talent with the "it" factor, it took a mere half-hour interview with Laura Lee to hand her a time slot for the talk show she pitched me, initially at Seattle's KING-AM, then KVI-AM when her show went to national syndication. Laura is an extraordinary talent, with a voice made for broadcast, an ear for riveting topic matter, and the ability to converse with experts in any field and make it exciting to a general audience. Her ratings reflected that, with an unheard of 40 and 50 Share, a huge Time Spent Listening, and demographics that demonstrate her appeal to male and female, young and old alike. She got more fan mail than the drive-time hosts (a frequent comment being, "I couldn't get out of the car until the show ended"). Laura Lee hits a nerve, in the best way. 
Brian Jennings Program Director for Seattle Stations KING-AM & KVI-AM (retired) National Program Director for Citadel Broadcasting (retired)